Today, I'm trying on the meme Exploring My Bookshelves. What do you think? Does it make me look bookish?
Exploring My Bookshelves #1
The meme: Every Friday, participants share a photo of their
bookshelves and post on a specific topic or question about them.
From my shelves, I have five favorite bookish fathers: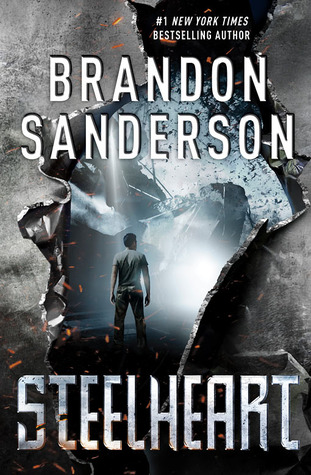 1. Blain Charleston
From the Reckoners series by Brandon Sanderson, Blain Charleston is the father of our beloved main character, David Charleston. Though he is featured very little in the series itself, he has a clear, profound, and positive impact on David throughout the series, as David often thinks of his father during times of trouble or hardship, hoping to emulate what his father might do in the same situation. Plus, he is a HUGE comic book nerd and a darn decent guy.
2. Mr. Bennett
Of Pride & Prejudice fame, yes. Because let's face it, if Mr. Bennett had not been the understanding, easy going man he was, not only would Jane Austen's Pride & Prejudice have lost a good source of wit and amusement, but Elizabeth probably would have wound up the wife of Mr. Collins long before Darcy came to his senses. Then everyone would have been miserable.
3. Jack Woodcutter
From the Woodcutter Sisters series by Alethea Kontis, Jack Woodcutter is a wonderful father, who has a knack for telling magical tales. With his stories, he has a way of not only sharing truths to his children, but sometimes spinning those truths out of the fiction and into reality. A big, gentle man, I can easily picture going to him for help, advice, or just a hug.
4. Artemis Fowl I
Admittedly, the father of our favorite enterprising child criminal mastermind in Eoin Colfer's Artemis Fowl series was not the best of role models. But thanks to a little fairy magic, Artemis Fowl senior was able to get in touch again with the kindheartedness of his youth and turn his back on his criminal ways. His influence -and watchful eye- probably had more to do with Artemis Fowl II's change of heart than even Holly Short and their adventures. After all, there is no better role model for a child than a good father.
5. Mo (Silvertongue)
Book confession: I have not yet finished the Ink series by Cornelia Funke. When I was reading them, I never got around to Inkdeath, because I didn't own it, and that was years and years ago. The whole series is still on my TBR.
Mo I love, not only for his beautiful and dangerous power to read things into reality, but for what a caring father he is. Granted, he kept a lot of secrets which Meggie didn't appreciate, but he is a devoted father. He cared for her with even more tender care than the broken books he mended and he raised his daughter with a cherished love of books.
Of course, as wonderful as these fictional fathers are, they all pale in comparison with mine. Love you, Dad!
Don't keep queit!
Who are your favorite bookish fathers?