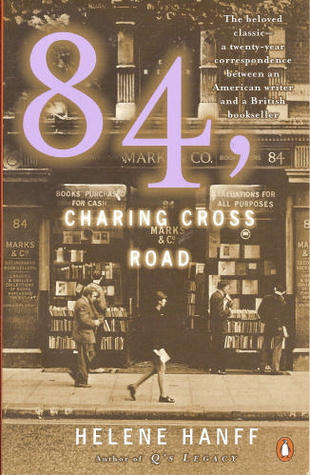 84, Charing Cross Road
Author: Helene Hanff
Publisher: Penguin Classics
Genre: Nonfiction/Memoir
Ratings:
5/5 stars
PG:
Mild language
Recommend to:
Readers; book lovers; bookshop lovers; fans of
The Guernsey Literary and Potato Peel Pie Society
Summary:
It all began with a letter inquiring about second-hand books, written by Helene Hanff in New York, and posted to a bookshop at 84, Charing Cross Road in London. As Helene's sarcastic and witty letters are responded to by the stodgy and proper Frank Doel of 84, Charing Cross Road, a relationship blossoms into a warm and charming long-distance friendship lasting many years.
The Review:
This is one of the most beautiful, engaging, fun, and heartbreaking things I have ever read. Everyone should read this.
Solely comprised of letters between the author, Helene Hanff, and the employees of an English bookstore, mainly Frank Doel,
84, Charing Cross Road
is bursting with one of the most important qualities I look for in books -PERSONALITY.
he has a first edition of Newman's University for six bucks, do i want it, he asks innocently.
Dear Frank:
Yes, I want it. I won't be fit to live with myself. I've never cared about first editions, per se, but a first edition of THAT book -!
oh my.
i can just see it. (pg 15)
As you can see...
you leave me sitting h

ere writing long margin notes in library books that don't belong to me, some day they'll find out I did it and take my library card away. (

pg 10)
...Helene Hanff is an absolute pistol. Every inquiry, letter, request, and complaint is rife with her larger-than-life personality. I was in stitches. Her wit and sarcasm is perfectly balanced by Frank Doel's oh-so-Britishly-proper responses. What starts as a book inquiry quickly grows into an almost twenty year correspondence the most funny and heartfelt friendship, all blossoming from a shared love of books.
She is insane about books! The way she talks about them -especially high tier nonfiction that I wouldn't dream of ever touching- makes me want to grab a copy and fall into the past inside. She makes them sound like magic, like time capsules just waiting to be uncovered. Hanff is a reader and
only readers will truly appreciate how
every page here is merely another step into that obsessive love affair we all share with books.
And Frank Doel understands. In fact, Helene even tells him in one of her many letters:
you see how it is, frankie, you're the only soul alive who truly understands me. (pg. 83)
Today, we book lovers can generally find someone to share our passion with. With countless blogs, booktubers, and Goodreads, we don't have to look very far to find a kindred spirit. Helene Hanff had Frank Doel; he was always on the lookout for books he thought she would like and they got to know each other so well through their expressive and captivating letters that he eventually sent her books she didn't ask for, because he knew she would like them, and she always did.
And the letters. Oh the letters! What a beautiful art; what a masterful form of communication. Why don't we write letters anymore? All the world should write letters as personal and effervescent as these. This entire book is a testament to pen pals, books, and readers, the letters within the kind of ordinary magic people can cast with just a little time and effort.
84, Charing Cross Road is a quick read at 97 pages -but it's so breathtakingly beautiful I guarantee you won't read it quickly. You will savor every letter, every discussion of books, every spitfire comment from Helene, every genteel reply from Frank, until you feel as much a part of their friendship as surely any book lover could.
This is the first nonfiction I have ever truly, completely enjoyed, let alone awarded five stars and immediately added to my private collection. I have no reservations when I say 84, Charing Cross Road is one of the greatest books of the 20th century.
What is your favorite
book about books?