As my parents always say: Better late than never! A few days shy of Top Ten Tuesday, this was too fun of a list to miss out on. I didn't even realize how many great books I had read this year until I started sifting through my Goodreads! My goodness, how did I keep track of this treasure trove before Goodreads?
Nothing Left to Lose by Dan Wells
While this list is in no particular order,
Nothing Left to Lose
still comes out on top. The sixth and final (at least, so far) book in Wells' John Cleaver series, while not the best book in the series, still gets 5 stars from me and it wraps up the story in a fantastic and unexpected way.
I love it.
Heartstone by Elle Katharine White
This was an unexpected read; I only found it while browsing Barnes & Noble with a friend a few months back. But White's vivid retelling of
Pride & Prejudice
as a fantasy novel deserves enough fanfare and praise to get its own display at aforementioned bookstore. Among other fantastic qualities,
Darcy is a dragon rider.
I repeat: DRAGON RIDER. White has recently been contracted to write two more books in the series, so there's plenty to look forward to.
Throne of Glass by Sarah J. Maas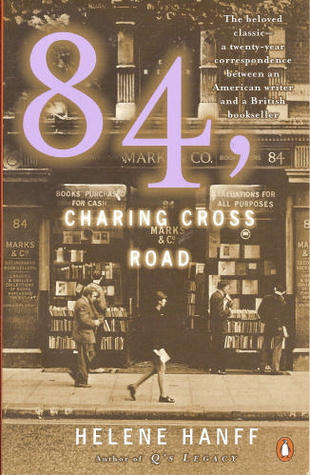 It took me years to get to this book, but I really loved it. Maas has created a cruel fantasy world with great characters and some interesting uses of magic. I'm looking forward to reading the rest of the series.
84, Charing Cross Road

by Helene Hanff
My review
This book is amazing. While it consists of actual letters between American Helene Hanff and the employees of the British bookstore she insists on doing business with, it reads very much like a love letter to books that any reader can appreciate. The dry humor and witty banter between the writers is an added bonus, and written from post-WWII 1940s to the 1960s, it offers an interesting frontline view to the period.
The Blacklist: The Gambler

by
Nicole Phillips
My review
As a Blacklist fangirl AND a fairly picky reader, this one tickled me pink. Between great stories and spot on characterizations of their on-screen personas, this tie-in graphic novel did everything right.
Howl's Moving Castle by Dianna Wynne Jones
Yes, you may gasp in shock and dismay when you realize I had never read
Howl's Moving Castle
before. Heaven knows all my librarian friends did. And now that I've read it, I have to say they were in the right. This book is pretty spectacular. It's funny and clever and full of magic; it reminds me both of Lloyd Alexander's work and the delightful children's fantasies I loved growing up, like
Half Magic
by Edward Eager and
Five Children and It
by E. Nesbit.
A Darker Shade of Magic

by V.E. Schwab
This is the second V.E. Schwab I've read and I've got to admit:
I'm kind of a fan. She has a way of working with magic that makes it interesting and a little on the dark side, but it's her characters that really take the cake.
The Bear and the Nightingale

by Katherine Arden
My review
A fantastic mesh of historical fiction, folk lore, and fantasy that brings old Russia to life. I love the clash here between the magic of the old country and the religion of the more 'modern' age, but you can read more about that in my review. Arden also has two more books in the works!
The W.H.O. Files: Potions in the Pizza by Mikey Brooks
My review
A fun and fantastic kids book with larger than life characters, delicious pizza, and witch hunters. What else does a book need?
Tricked by Jen Calonita
My review
While this series is for younger readers, I absolutely love it. It's a fun romp, with some really interesting tweaks to the lives of traditional fairy tale characters
after
their tales are done. I especially like that Calonita has pulled out a handful of the villains to create a reform school for misbehaving children.
Star Wars: The Clone Wars by various
I'm currently only halfway through this graphic novel series, and already it's a favorite. The prequel trilogy of
Star Wars
never dug into the specifics of the Clone Wars and more's the pity for it, because it really changes the way I view a lot of the characters and the events. It's also interesting to compare the differences between these graphic novels and the television show of the same name, because these do not tell the same stories at all.
And those are my best book of 2017 so far! What amazing titles have you read this year?
And how did you keep track of your books before Goodreads?
I remember using those handy reading logs during summer reading, but other than that, I really think I just relied on my memory. Oh to be young again...