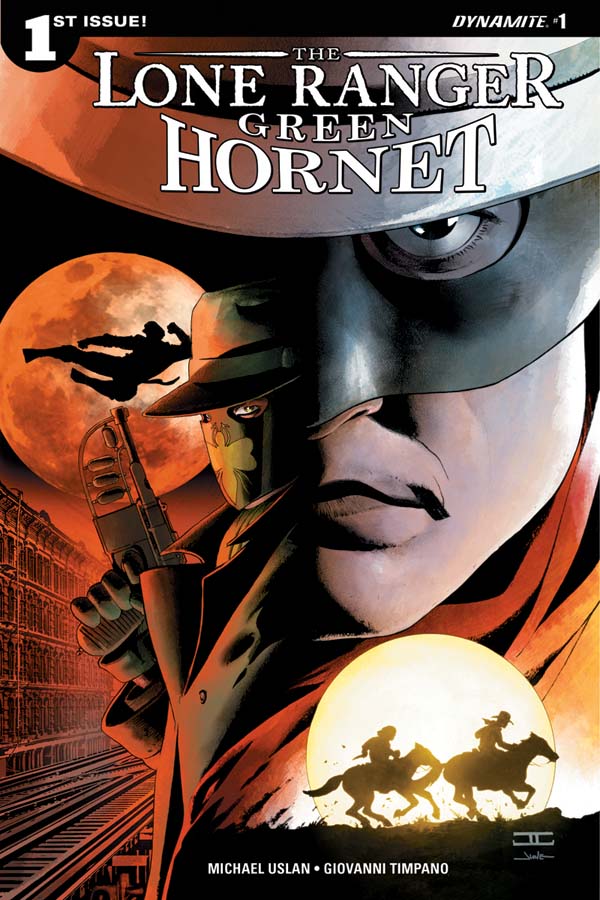 Lone Ranger/Green Hornet: Champions of Justice
Author: Michael Uslan
Illustrator: Giovanni Timpano
Publisher: Dynamite
I'd like to thank NetGalley for providing me with an ebook copy in exchange for an honest review.
My Rating:
3/5 stars
PG-13 for action/violence
Recommend to fans of the Lone Ranger or the Green Hornet (obviously); also to those who like stories spanning different eras and important historical figures randomly popping in.
Summary via Goodreads
A tale of super-heroics and family that has taken eighty years to be told, uncovering The Lone Ranger's familial link to the emergence of The Green Hornet! What is the blood connection that unites two masked heroes, separated by generations? What intense rift tears a family apart just when America desperately needs a great champion of justice?
First of all -how have I gone my entire life not knowing that the Green Hornet and the Lone Ranger were RELATED?!? Seriously? If you didn't know that either, the good news is,
Champions of Justice
covers their connection in full. We even get to see them battle evil side by side.
I not only love this connection between two iconic characters, but also the depth it adds to the histories and differences of the dual stories told. In fact, I was so wrapped up in the characters, in Britt and John's disagreements over the Lone Ranger ideal, and all the flashbacks, that I kept forgetting what the real story line was.
Spanning two distinct eras -the Wild West and the 1940s- this 6-issue adventure has a great mesh of the worlds of the Green Hornet and the Lone Ranger and an even greater team-up with Britt Reid and his great-uncle John Reid. I loved the contradictions and differences between these two. John Reid, a vigilante who sees things mostly in black and white, as right or wrong, settling most of his battles with a good knockout punch, and Britt Reid, who's of a newer generation, who likes technology to help him fight his battles, who sees every conflict with its more complicated gray areas, who knows he can't just haul back and punch the bad guys anymore. Watching these two debate and interact was the best thing about this series, because it was so on point. I would love to see more of that. I don't even care if there's a villain in such a story; just give me Britt and John palling around, debating the philosophy and morality of their alter egos, maybe taking down the odd purse snatcher or something.
The story itself could have been done better. It has an interesting idea and I love how it dips into The Lone Ranger's past so I could see some wonderful flashbacks, but it was a little too convoluted for such a short series and it didn't work great with the arc of the characters because, like I said, I kept forgetting what the story was actually about because I was too wrapped up in the characters' personal drama.
Much as I loved the meshing of stories, timelines, and personalities, there was one thing in this that I really, really hated. It's a finale spoiler, so I won't go into details, but there is a moment earlier on where Britt and John are forced to decide whether or not to sacrifice something to keep to the Lone Ranger ideal they've vowed to uphold. My problem with this is that in the finale one of them makes a complete 180 turn in a similar scenario which makes the prior incident become basically meaningless and
it's not even addressed in story, by any character.
While the 5-star characters make this one a worthy To Read, that underwhelming plot and 180 turn at the finale drove down my rating.
Are you more of a Lone Ranger or Green Hornet fan?