All about the visuals: Top Ten Favorite Graphic Novels/Comics or Ten Comics on My TBR or Top Ten Favorite Picture Books
Of the three choices I have to go with Ten Comics on My TBR. I still haven't read enough to have a top ten of favorites, but I there are tons on my TBR!
Without further ado...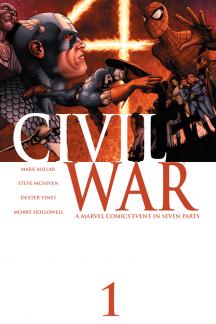 Civil War
This is like the comic of all comics. I meant to read it before Captain America: Civil War released, but I didn't make it. I did read the events leading up to it, however -Secret War, Avengers Disassembled, and House of M (just cut my heart out of my chest with a dull spoon, will ya?!?!) I predict I'll branch off into some of the tie-ins, but most definitely Spider-Man's.
Spider-Man: 1602
I read Marvel 1602 a while back and loved it. The Spider-Man sequel is the one I'm most interested in following up on.
From the Beginning
There are also several Marvel comics I want to read from the beginning. The first comic I ever read was the
Essential Spider-Man volume one, so I jumped right in with Stan Lee and Jack Kirby and Steve Ditko. So,
Spider-Man
,
Iron Man
,
Doctor Strange
, and
The Fantastic Four
are some of the classics I want to read from their conception. It's going to take me awhile to get through, but I really want to revisit the good ol' days of comics.
Star Wars
Princess Leia
Darth Vader
Still haven't caught up on the new Star Wars canon in many formats. :P
Figment
Enchanted Tiki Room
Big Thunder Mountain Railroad
I absolutely love what Disney and Marvel did with Seekers of the Weird so I'm very exited to read their other collaborations like
.
A:TLA North & South
The Avatar comics have been consistently decent. They all have good and bad, all have stuff I love and stuff that makes me want to tear my head out. (It's like Cursed Child all over again, except I've been an Avatard ten years longer than I've been a Harry Potter fan, so tenfold.)
The Blacklist
I only learned recently that The Blacklist has tie-in media. I'm currently reading the first novel and I'm actually pretty impressed with it. Next up is the first comic series, The Gambler (No. 148), and I have optimistically high hopes for it.
Star Wars: Clone Wars
This is another series I've been meaning to read for awhile. It's no longer canon, I know (*sniffle*) but I've heard it's amazing so I can't pass it up. I'm watching the TV series right now, so I'll be interested to see the similarities and differences here.
Gah, my TBRs are always so long! So full of optimism! Will I ever achieve my reading goals?!
What comics are on your TBR?