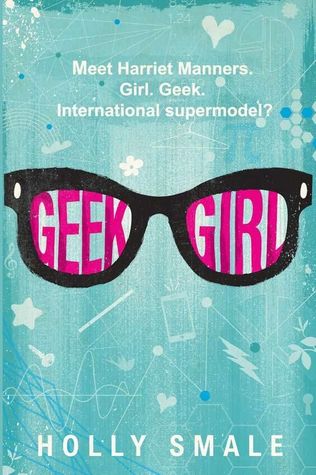 Geek Girl was impossible to put down.
It's hilarious, heart-warming, brave, and meaningful.

I wish I'd had this to read when I was an awkward teenager.

The first person POV is masterfully done, and I loved being inside the head of Harriet Manners, because it was such an interesting and occasionally awkward place to be.
I liked that this was all about a girl just trying to find out where she fits in the world. That she happens to do this by stepping into the fashion business when she doesn't even like clothes or wear heels -well, that was just a bonus.
I wasn't really sure what to expect with this, but I was fairly confident there would be a good dose of rather vicious, backstabbing characters. I've seen Devil Wears Prada

. Surprisingly, the fashion world here was not as cruel and heartless as I feared. I say 'fear' because, while I like a good fish-out-of-water, coming-of-age, self-discovery story, I don't necessarily like it to be uncomfortable. Awkward, sure, no problem, but I don't like to spend a lot of time with characters who are spiteful for no real reason even if they are the quote unquote villain. There were a couple of these characters, but they didn't take up a lot of page space. Most of the main characters within the fashion world were far more interesting, like

Yuka Ito, who's severe and intimidating,

but not necessarily cruel

.
I had so many favorite parts about this book. The best friends, Harriet and Nat. Harriet's would-be-boyfriend/stalker who, while not exactly adorable, helped Harriet figure things out. All of the characters were wonderful and bursting with personality. I liked that the romance subplot was so subtle, because it's really secondary to the story. It focused on Harriet's attempt to 're-invent' herself, the best friend crisis, the family issues, and school problems, and the fish-out-of-water story, so when you think about it, the romance was really sixth on the list. Geek Girl was about self-discovery, and none of that self-discovery came from liking or being liked by a guy. It all came from Harriet.
I love Harriet so much because she's so incredibly normal. Well, maybe not the geek bits and the factoids, but she frets and she worries and she jumps to worst case scenarios even if she should know better.
She's a fifteen year old girl.
Everything about her is so easy to relate to, that I think girls for generations are going to want to grow up with Harriet and learn with her.
Above all, I loved what Smale had to say about accepting yourself -for all your quirks and faults- instead of twisting yourself into a pretzel trying to get other people to accept you.