A Top Ten Tuesday meme courtesy of The Broke and the Bookish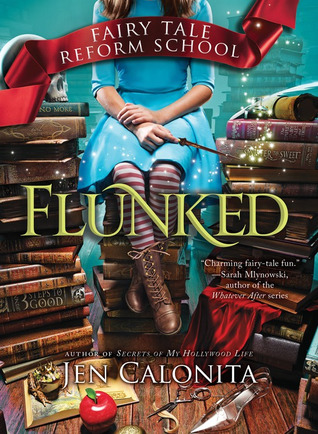 Flunked by Jen Calonita
Why wouldn't I want to read this book?
Is there magic? Check.
A fairy tale retelling? Check
Does it deal with that old adage 'can a villain ever change'? Check.
Welcome to the Fairy Tale Reform School.
Rebel Queen by Michelle Moran
The 1850s. The British Empire has set their sights on India as their next conquest.
The Last Queen of India, Lakshmi, is going to give them more then they bargained for.
Reasons for wanting to read it: historical fiction, Indian culture, warrior women, and gorgeous cover.
Wonders Never Cease by Tim Downs
Kemp McAvoy has just concocted a brilliant get-rich-quick scheme. With a slight adjustment of a recently-admitted movie star's meds, the help of her agent, and a down-and-out publisher, he is going to create a best selling heavenly visitation. And then he's going to get filthy rich.
But when six-year-old Leah starts telling people she's seeing angels, things might not work out the way he expected.
Reasons: It sounds funny, heart-warming, and I always love a good ne'er-do-well-questioning-his-life-choices story.
Legion by Brandon Sanderson
Stephen Leeds, AKA 'Legion,' is a man whose unique mental condition allows him to generate a multitude of personae: hallucinatory entities with a wide variety of personal characteristics and a vast array of highly specialized skills.
As the story begins, Leeds and his 'aspects' are drawn into the search for the missing Balubal Razon, inventor of a camera whose astonishing properties could alter our understanding of human history and change the very structure of society.
(-publisher description)
Reasons: It's written by Brandon Sanderson.
Milo Speck, Accidental Agent by Linda Urban
Milo Speck has always wanted to find magic. He just didn't expect it in the form of a sock.
Now he's on a mission to rescue all the kids in the land of Ogregon from its hungry ogre inhabitants. But can he?
Small boy. Big world. Really big.
Reasons: This was recommended to me by Brenda over at Log Cabin Library, and it looks right up my alley. I read Urban's A Crooked Kind of Perfect several years ago and loved it.
Ready Player One by Ernest Cline
2044. Wade Watts spends most of his time in the virtual utopia, OASIS, whose creator hid puzzles inside and promised a fortune to whoever can solve it.
When Wade stumbles across a clue, he learns just how badly the other players want to take it from him. Enough to kill.
Ready player one. The race is on.
Reasons
: This was another recommendation, and it sounds fascinating. USA Today says 'Willy Wonka meets The Matrix' and how can I not be intrigued by that? The audio is also narrated by Wil Wheaton, who did such a wonderful job on Scalzi's Fuzzy Nation, I can't pass it up.
Abby Spencer Goes to Bollywood by Varsah Bajaj
What thirteen-year-old Abby wants most is to meet her father. She just never imagined he would be a huge film star--in Bollywood! Now she's traveling to Mumbai to get to know her famous father. Abby is overwhelmed by the culture clash, the pressures of being the daughter of India's most famous celebrity, and the burden of keeping her identity a secret. But as she learns to navigate her new surroundings, she just might discover where she really belongs.
(description from Goodreads)
Reasons: Again, Indian culture. I've recently come to love Bollywood films, and a book not only about Bollywood, but an MG coming-of-age story? Bring. It. On.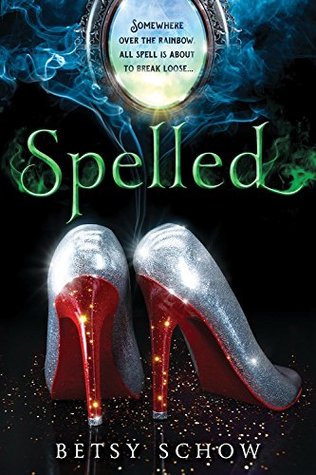 Spelled by Betsy Schow
Fairy Tale Survival Rule #32: If you find yourself at the mercy of a wicked witch, sing a romantic ballad and wait for your Prince Charming to save the day.

Yeah, no thanks. Dorthea is completely princed out. Sure being the crown princess of Emerald has its perks—like Glenda Original ball gowns and Hans Christian Louboutin heels. But a forced marriage to the brooding prince Kato is so not what Dorthea had in mind for her enchanted future.

Talk about unhappily ever after.

Trying to fix her prince problem by wishing on a (cursed) star royally backfires, leaving the kingdom in chaos and her parents stuck in some place called "Kansas." Now it's up to Dorthea and her pixed off prince to find the mysterious Wizard of Oz and undo the curse...before it releases the wickedest witch of all and spells The End for the world of Story.
(description from Goodreads)
Reasons: Sass, sass, SASS.
The Ghost in Love by Jonathan Carroll
A man hits his head and dies. Except, he isn't dead. And the ghost sent to collect him is flummoxed. He's told to stay with the man until his afterlife bosses figure the mess out.
Then something strange happens. The ghost falls madly in love with the man's girlfriend. Things get complicated.
Reasons: I've been on a kick lately of un-traditional ghost/paranormal stories -akin to Odd Thomas and The Returned- so this one caught my attention quick.
Redshirts by John Scalzi
The Star Trek redshirts always die. Their literary purpose is to be expendable characters.
So what happens when the redshirts figure that out?
Reasons: This sounds absolutely hysterical. I love stories that flip a standard on its head, and watching the hapless members of an illustrious star ship figure out what pop culture has known for decades? Priceless.
And that's it! What are some of your recent TBR additions?